http://www.digikey.com/product-detail/en/EDZ1550%2F2/ED1960-ND/250567
 16-28 AWG stranded wire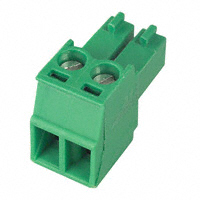 This connector is designed to use 16-28 AWG stranded wire. The smaller the number the larger the wire. 
If you only need the connector send an email to Support@ncecorporation.com with your request and mailing address we will send them to you at no charge. Limit of 1 per request.
This offer is good for US residents ONLY. ALL others please email for price quote. 
For service in Australia:
Factory Authorized Sales and Service Agent in AU:    
MRRC Shop    http://mrrc.com.au/
Gary Spencer-Salt     sales@mrrc.com.au
Tele : +61-2-9831-8217 
Shop 2 - Level 1   64-70 Main Street    Blacktown, 2148